Phydeaux and Friends
,
Austin, Texas 78757, US
Mr. & Mrs. S fell in love with Austin and the love of all things animal! After living in the Lone Star State for a time, they began to notice that they traveled to 3, sometimes 4 pet supply stores to get everything they needed for their fur-babies… and from necessity Phydeaux and Friends was born! The first of many, we are located at 7816 Burnet Rd Austin TX.
We have products for Dogs, Cats, Chickens, and More!  We're the pet specialty store of your dreams with 8000 square feet and only the best for your best friends!
We have a knowledgeable team that is here to assist you with any questions you may have. We even have a few vet techs on staff for those troublesome questions.
Phydeaux & Friends works with local rescues to host adoption events, and we donate whenever and wherever we can.
You can see some of what we stock online, but as our inventory is always growing, we do not sell all of our current products online, but we are offering local deliveries for bulk buys in select zip codes. Contact us at Orders@phydeauxandfriends.com or call for more details!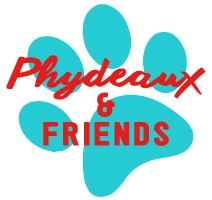 Hours
Sun 12:00 pm – 7:00 pm
Mon – Fri 10:00 am – 8:00 pm
Sat 9:00 am – 7:00 pm